Change Makers Award for O' Level & A' Level Students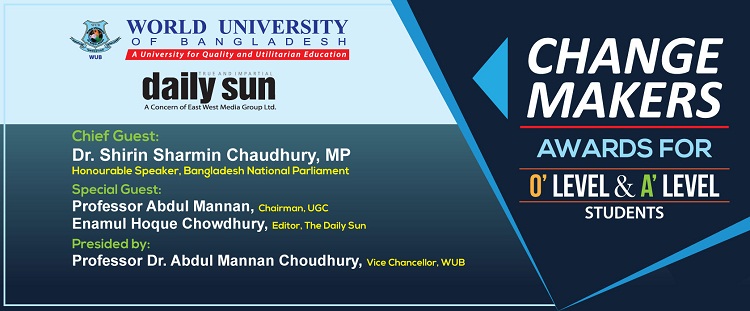 World University of Bangladesh and the Daily Sun will jointly arrange a Change Makers Awards Program for O' Level and A' Level passed students of 2017-2018. Dr. Shirin Sharmin Chaudhury, MP, the Honorable Speaker of the Bangladesh National Parliament, will grace the program as the Chief Guest. Professor Abdul Mannan, Chairman, University Grants Commission (UGC) of Bangladesh, and Mr. Enamul Hoque Chowdhury, Editor, the Daily Sun, will remain present as Special Guests. Professor Dr. Abdul Mannan Choudhury, Honorable Vice Chancellor, World University of Bangladesh, will preside over the program.
The Change Makers Awards Program will be held on October 02, 2018 at 10:00 am at the International Convention City Bashundhara (ICCB), Hall - 3 (Rajdarshan).
Date of Publish:24/09/2018
Back to All Events