Office of the Registrar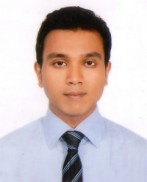 Md. Nazmul Hasan Neloy
Administrative Officer-I
Md. Nazmul Hasan Neloy has joined at World University of Bangladesh (WUB) on 1st March 2016 as an Administrative Officer-I. He had his bachelor (BBA) and Master's (MBA) degrees from the World University of Bangladesh with outstanding results. During the bachelor program, he was selected five times to the "Best Performance Award" program and got the award for his brilliant academic results.
He loves his current role in this university which is very challenging and really excites himself always. He thinks the role he is playing supports his creativity and innovation a lot more than very rigid spaces. Therefore, he feels very lucky to get nice employers and for being with WUB family, and enjoying every day he passed through.
Mr. Nazmul Hasan Neloy has good communication, interpersonal, problem solving, decision making, presentation skills, and supervision and is able to work in a challenging environment. He is a disciplined, punctual, quick learner, dedicated to the achievement of the university, and expert on performing administrative tasks as well. The personal traits of Mr. Nazmul like generosity, integrity, reliability, openness, conscientiousness, optimism, ambitiousness, honest, gratitude stress-tolerance, self- confidence, and self-motivated are also noticeable.
In his personal life, he is friendly, cordial and a person who enjoys traveling a lot. He has interests in pet animals, gossiping with family and friends, gardening, reading, and listening to music.
---