Internship Report Presentation Program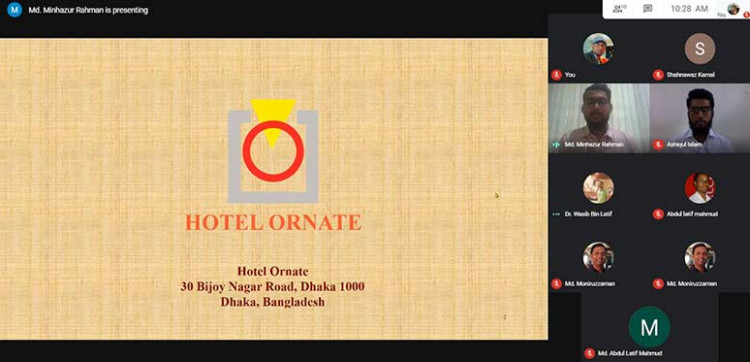 The Department of Tourism and Hospitality Management, World University of Bangladesh, arranged an online presentation session for the students of BTHM program who have already completed their internship from a reputed organization and produced a report accordingly with the guidance of their designated supervisors.
The presentation held online using Google Meet and the evaluation of the teachers were taken in real-time using Google Sheets. The online presentation was held at 10 am on 17th September 2020.
The criteria to evaluate the students were divided into 9 distinctive rubrics. These are- Background of the study -10 Marks; Attainment of Study Objective -10 Marks; Pertinent Literature Review -10 Marks; Soundness of the Methodology -10 Marks; Description of Activities Undertaken -20 Marks; Observed Challenges at Organization -10 Marks; Illustration of Lesson Learned -10 Marks; Conclusion & Recommendation -10 Marks; Overall Content of the presentation (i.e. logical sequence of information, usage of appropriate information & materials, the inclusion of relevant study points)-10 Marks.
Five faculty members were present as the panel members for 02 students of BTHM program.
Panel Members:
1.      Dr. Selim Ahmed
2.      Dr. Wasib Bin Latif
3.      Md Moniruzzaman
4.      Md. Abdul Latif Mahmud
5.      Shahnawaz Kamal
Students:
1.      Md. Minhazur Rahman, covering the topic- Food and Beverage Service Technique: A study on Hotel Ornate
2.      Md Ashiqul Islam covering, the topic- Handling Room Related Queries: A study on Six Seasons Hotel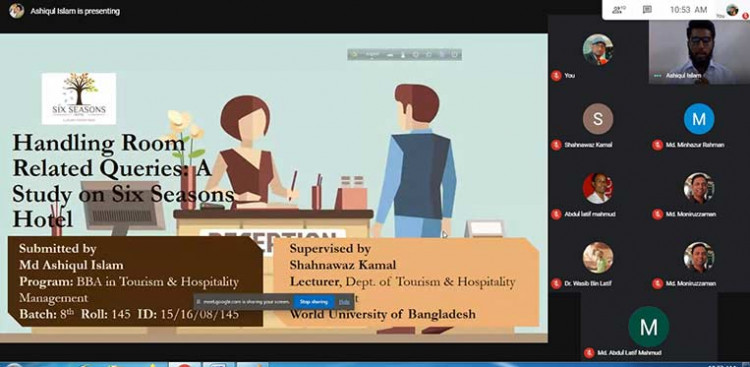 17 September, 2020
---