Project/Thesis Report Presentation Program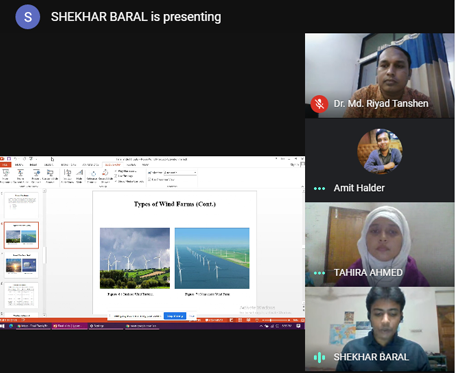 The Department of Electrical and Electronic Engineering, World University of Bangladesh arranged a presentation program online for the students who had completed the final year project/thesis report.
The presentation held online using Google Meet platform and the assessment of the teachers were taken in real-time using Google Sheets. The online presentation was held at 6:00 PM on 14th September 2020.
Totally 9 groups including 17 students participated in this project/thesis report presentation. Three panels were created previously including supervisor with their corresponding three internal examiners. The supervisor and internal examiners evaluated each student's performance. The students were given 15 minutes to present their topic on PowerPoint slide. After each presentation each group had to face 5 minutes of question & answer/discussion session where internal examiners assess their knowledge and basics on that topic or work.   
On that day two panels of thesis/project groups present their report. The details of the groups are:
 Panel 1:
Students for presentation: Ashikur Rahman, Ashraful Islam, Md. Abdul Latif Sarkar, Md. Rakibul Islam, Md.Riaz Uddin, Md. Shafiqur Rahman, Shazzad Hossain, Md. Shohel Rana, Mohammad Mizanur Rahman, Rofiqul Islam and Afrin Akter Selina.
Teachers for evaluation: Dr. Md. Mohsin (Panel Head), Md. Istianatur Rahman, Md. Nayeem Hasan Mallick, Md. Siddikur Rahman and Abdulla Ibna Karim.
Panel 2:
Students for presentation: Md.Shohan Mia, Roksana Akter, Ainul Islam, Kazi Ashraful Islam, Shekhar Baral and Tahira Ahmed.
Teachers for evaluation: Dr. Md. Riyad Tanshen (Panel Head), Amit Halder, Md. Rasel Sarkar and Md. Shafiul Huda Eraz.

14 September, 2020
---