Webinar on "Making Bangladesh ready for Industry 4.0: Innovations and Opportunities in Digital Transaction"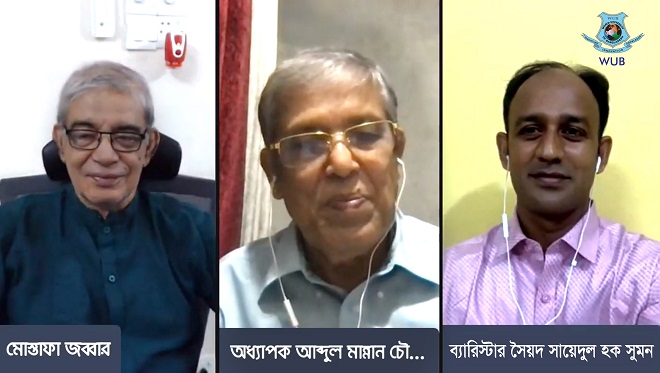 World University of Bangladesh (WUB) conducted a webinar on "Making Bangladesh ready for Industry 4.0: Innovations and Opportunities in Digital Transaction" on 30th July 2021 at 7:30 pm. It was broadcast from the official Facebook page of the University. Rhizome on the following link https://www.facebook.com/wubedubd

The webinar was attended by among others, Mr. Mustafa Jabbar, Hon'ble Minister, Ministry of Posts, Telecommunication and Information Technology as Chief Guest. Barrister Syed Sayedul Haque Suman, Advocate Bangladesh Supreme Court and Law Secretary, Awami Jubo League was present as Special Guest. The program was chaired by Prof. Dr. Abdul Mannan Choudhury, Vice-Chancellor, World University of Bangladesh.
In the webinar, the Hon'ble Minister said that Bangabandhu sowed the seeds of industrialization of Bangladesh. He appreciated about the helping hands of Honorable Prime Minister Sheikh Hasina and her government's enormous support for all these success of today's "Digital Bangladesh". He reiterated that government will take all steps to make success the program for "Making Bangladesh ready for Industry 4.0.
Barrister Syed Saidul Haque Sumon sheds light on the speed of Internet in Bangladesh. "We are far behind due to lack of optical fiber connection and it is too late to enter Industry 4.0," he said.

Honorable Vice-Chancellor Prof. Abdul Mannan Chowdhury mentioned the contribution of digitalization of the government in the GDP growth of Bangladesh. He also mentioned the success of the present government in tackling the ongoing crisis and the bold initiatives taken by the government in the field of information and technology to build Bangladesh as a role model to other countries in the world.
News Portal Links:
30 July, 2021
---