WUB Hult Prize 2023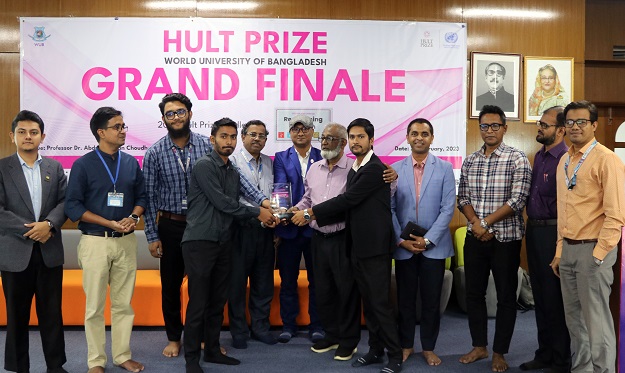 World University of Bangladesh (WUB) recently organized the grand finale of the Hult Prize 2023 in the university auditorium. Initially, 16 teams participated, and four qualified for the final round. In the grand finale, the team performance was evaluated by seven judges, namely Dr.Selim Ahmed, Head of World School of Business, Mr. Md. Mostafizur Rahman, Head, Department of Textile Engineering, Mr. Mohammad Nasim Ferdous, Head of Department of English, Mr. Ujjal Yaman Chowdhury, Assistant Professor of Department of Business Administration, Mr. Estanul Kabir, Senior Program Manager, Bangladesh, Wadhwani Foundation, Mr. Khandaker Mohammad Zaman Hossain, DGM, Business Development TÜV SÜD, and Mr. Shahriar Islam, Senior Associate at Wadhwani Foundation.
After presenting the ideas of four different teams, the judges decided on the winner and runner of this competition. Prof. Dr. M. Nurul Islam, Pro-Vice Chancellor, promulgated the winner (Team Ecological Fashion), 1st runners-up (Team five weaves), and 2nd runners-up (Team What the coco!). The honorable Pro-Vice Chancellor dispensed the crest to the winner and runners-up teams. He also gave a token of appreciation to the respected judges. Consequently, Prof. Zaki Imam, Registrar and Dr. Selim Ahmed shared some critical insights with the guests and teams, and after that, the Campus Director of Hult Prize, Miss Farjana Rahman, ended the Program with concluding remarks.
Bright Skills sponsored this event, the knowledge partner was e-ghoori, the strategical partner was Wadhwani Foundation, and the media partner was Swadesh Pratidin. 
18 March, 2023
---