WEBINAR SESSION ON "HOW QS RANKING AND RATING ENHANCE QUALITY EDUCATION"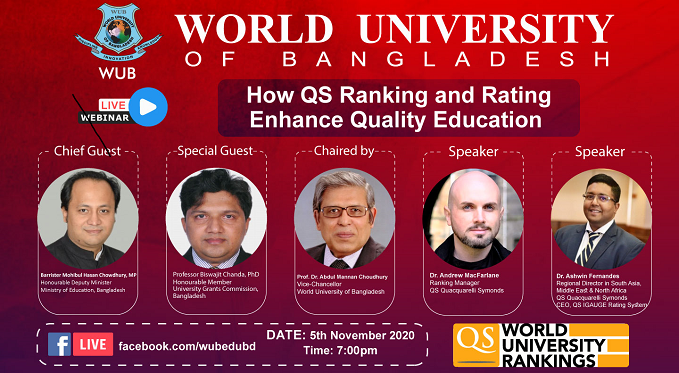 The QS (Quacquarelli Symonds) is one of the leading world university ranking organizations which recognizes the global top universities based on academic excellence. The mission of QS ranking is to enable motivated people around the world to fulfil their potential through educational achievement, international mobility, and career development. For the last couple of years many public and private universities of Bangladesh have been participating in the QS World University Ranking to introducing the quality education system of Bangladesh. In this regard, the World University of Bangladesh is organizing a live webinar session on "How QS Ranking and Rating Enhance Quality Education" on 5th November 2020 at 7 pm. The purpose of this event is to share the knowledge of QS ranking and rating methods with all academia of the universities to improve the quality education.
In this webinar, the Chief Guest will be Barrister Mohibul Hasan Chowdhury, Honourable Deputy Minister, Ministry of Education, Bangladesh and the Special Guest will be Professor Dr. Biswajit Chanda, Member of Commission, University Grant Commission (UGC), Bangladesh.  The speakers of this webinar will be Dr. Andrew Macfarlane, Ranking Manager, QS Quacquarelli Symonds and Dr. Ashwin Fernandes, Regional Director in South Asia, Middle East & North Africa, QS Quacquarelli Symonds.  Prof. Dr. Abdul Mannan Choudhury, Vice-Chancellor, World University of Bangladesh will be chaired of the session.
04 November, 2020
---