Prospect of Mechatronics Engineering in Bangladesh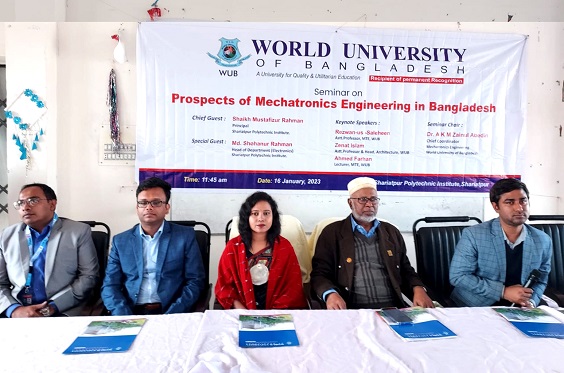 The Department of Mechatronics Engineering, World University of Bangladesh, organized a seminar titled "Prospect of Mechatronics Engineering in Bangladesh" on 16th January 2023 at Shariatpur Polytechnic Institute. The mission of this visit was to ensure the student's encouragement for higher education for the best academic atmosphere to quality product. 
The objectives of this visit were to illustrate the basic concepts of Mechatronics Technology, Prospects of Mechatronics Engineering as a modern and sustainable technology and Chronicles of Mechatronics Engineering in Bangladesh to the students.
Shaikh Mustafizur Rahman, Principal, Shariatpur Polytechnic Institute, Shariatpur, was present as the chief guest of the seminar. Rezwan us Saleheen, Assistant Professor, Dept. of MTE, WUB; Ahmed Farhan, Lecturer, Dept. of MTE, WUB and Zenat Islam, Assistant Professor and Head, Dept. of Architecture, WUB adorned the program as Keynote Speaker. Maruf Ahmed, Deputy Registrar; MD. Shafiqul Islam,Deputy Director of Accounts; and Md. Asad Hossain, Jr. Assistant Registrar, WUB were also present. Dr. A K M Zainul Abedin, Sr. Associate Professor, Dept. of MTE, WUB chaired the seminar.
The speakers of the seminar presented their paper by slides highlighting the importance of Mechatronics Engineering and its prospects for the job market. The speakers of the seminars discussed the importance of mechatronics engineering in home and abroad. The speakers also mentioned the wide academic environment at the newly constructed campus of World University of Bangladesh at Uttara having thirteen departments for providing higher education utilizing education. 
The students participated in the discussion through question and answer sessions and showed their interest for further higher education on Mechatronics Engineering. More than two hundred students and teachers were present in the seminar.
After the seminar the respective teachers and officials participated in Winter Cloth distribution activities. They distributed blankets to the local poor people at Shariatpur.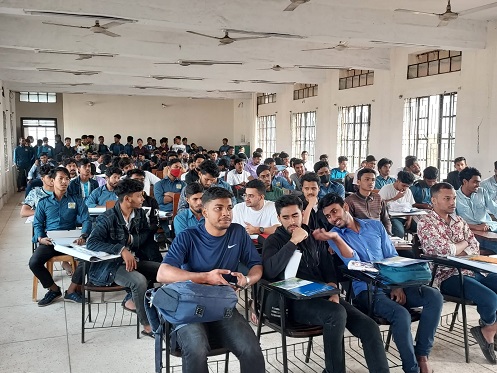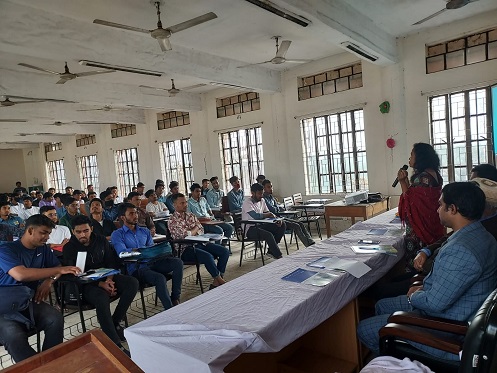 16 January, 2023
---