WUB CRICKET CARNIVAL-2015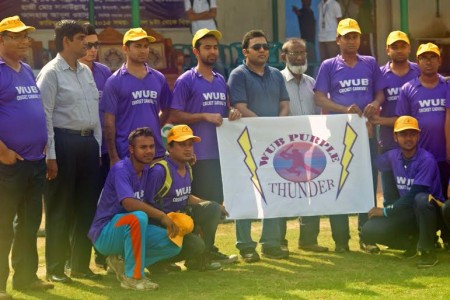 World University of Bangladesh organized a day long cricket carnival-2015 among the students. It was held at the Aliganj Cricket Club ground, Narayanganj on April 10 (Friday). Honorable Vice Chancellor Professor Dr. Abdul Mannan Choudhury graced the occasion as Chief Guest while Professor Dr. M Nurul Islam, Pro-Vice Chancellor, WUB; Mr. Anisur Rahman Mia, Deputy Commissioner, Narayanganj; Khandoker Mohid Uddin, Police Super, Narayanganj; Dr. Musfiq Mannan Choudhury, Secretary, Board of Trustees, WUB; Alhaj Kawsar Ahmed Polash, Chairmen, Aliganj Club, Narayanganj and Hazi Md. Sanaullah, Chief Advisor, Aliganj Club, Narayanganj were present as Special Guests.
Mr. Rony Talukdar - a new face of our National Cricket Team was present in this tournament and encouraged our players. Finally the Chief Guest distributed the prizes among the winners.
10 April, 2015