Amar Bangla Photography Contest – 2016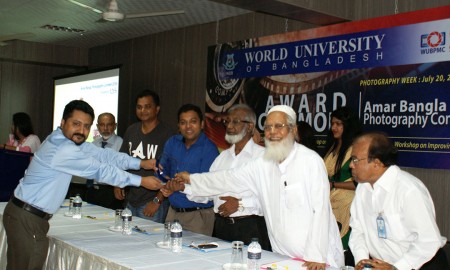 WUB Photography & Media Club of World University of Bangladesh organized 'Amar Bangla Photography Contest – 2016 Award Ceremony' on July 26, 2016 at the auditorium of the University. The Ceremony was presided over by Prof. Dr. Musfiq M Choudhury, Secretary, Board of Trustees of the University while Professor Dr. M Nurul Islam, Pro-Vice Chancellor was the chief guest and Dr. Rinkon Khan, CEO, One Man Team as a special guest.
Two Hundred and thirty four students took part in this contest. Among these, thirty four photographs of twenty four competitors were selected. First, Second and third were honored with Crests and Certificates.
01 July, 2016