Orientation and Farewell Ceremony of WUB Entrepreneurship Club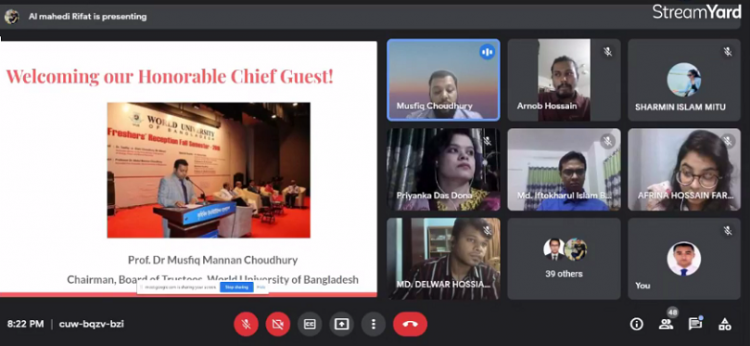 World University of Bangladesh Entrepreneurship Club (WUBEC) had its first official programme for the session of 2021-22 on 14 July 2021. The programme was organized to pay tribute to the previous committee and thus welcome the newcomers on one platform. The presence of Prof. Dr. Musfiq Mannan Choudhury, Chairman, Board of Trustees, World University of Bangladesh (WUB) as the Chief Guest has made the programme glorious. Dr. Selim Ahmed, Head of World School of Business had graced the ceremony as the Special Guest. The Event Convener was the Club Moderator, Ujjal Yaman Chowdhury. During this Covid- 19 crisis, the program was conducted virtually. 
 The Ceremony started with the flashback and memories of the previous initiatives of the club for the entrepreneurial movement in WUB. This was followed by the welcome note speech by Iftekharul Islam Bhuiyan, one of the advisors of WUBEC. Thus in the farewell announcement the Ex-President, Shahed Parvez, and the General Secretary, Ahad Shad expressed their feeling and good wishes for the club. The founding President, Fuad Hassan Abrar, was also present in this occasion. 
After the farewell, the special guest and the chief guest delivered their valuable speeches and words of wisdom. The New Committee was finally announced thereby: Tasina Reema Jareen as the President, Md Rahat Chowdhury as the Vice President, Md Abdullah Al Mahadi as the General Secretary, and Maruf Ahmed Sami as the Assistant General Secretary.
 WUB Entrepreneurship Club always believes in sharing and caring. The ceremony was a wonderful gathering of club representatives conveying warm wishes for the new people. 
 Finally, the ceremony had its closing by the Club Moderator Ujjal Yaman Chowdhury. The future plans and affiliations of the club were announced. The motto of WUB Entrepreneurship Club is: TRANSFORMING LIVES. 
14 July, 2021
---