Prize Distribution Ceremony of the Winners Of Essay Competition & WUB International Chess Competition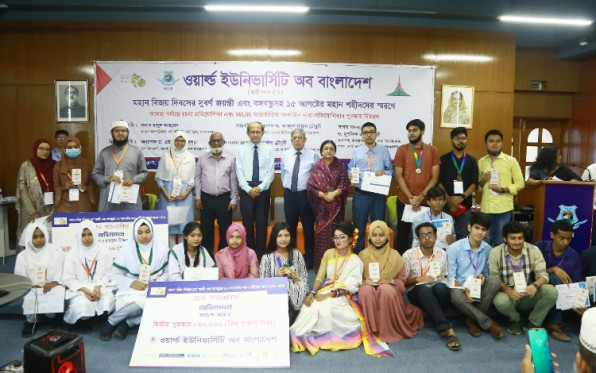 World University of Bangladesh organized an event of prize distribution of Essay Writing Competition (College Level) as a mark of remembrance of the Golden Jubilee of Victorious Bangladesh: Prospects and Possibilities as well as to commemorate the Martyrdoms of Bangabandhu Sheikh Mujibur Rahman, Bangamata Sheikh Fazilatunnesa  Mujib & others on 15th August, 1975 & also WUB International online Cheese Competition 2022 on 29th August 2022 at 11.00 am, at its permanent campus-Avenue 06 & Lake Drive Road, Sector No. 17/H, Uttara, Dhaka-1230. The winners received Tk. 50,000, Tk. 30,000 and 15,000 as well as a crest along with  a certificate as testimony of 1st, 2nd and 3rd prize in the Essay Writing Competition and a large number of consolation prizes. The winners of Chess Competition received Gold, Silver & Bronze medal with a certificate. The others got a crest and a certificate each. 
In the Essay Competition essays from school, college and universities of the country were submitted. Essays were reviewed and scored by an expert of judges and in the end the following students were awarded: 1st prize Maryam Rahman, Dhaka Commerce College, Dhaka; 2nd prize Ayesha Akhter, Shofiuddin Government Academy and College, Tangi, Gajipur; and 3rd prize Md. Rayhan Uddin, Government Tolaram College, Narayanganj. And In the WUB International Chess Competition following students were awarded: Champion Noshin Anjum, Viqarunnesa Noon School and College, Dhaka; 1st Runner up Shams Sarar, Engineering University School and College, Dhaka; and 2nd Runner up Nur Newaz Oyon, Dhaka Commerce College, Dhaka.
Mr. Masud Ahmed-a renowned writer, playwright and novelist and former Senior Secretary, member of the Planning Commission and Comptroller & Auditor General of Bangladesh, has distributed the prizes to the winners as Chief Guest. Professor Dr. Abdul Mannan Choudhury- a valiant freedom fighter, writer, columnist, honorary fellow of Bangla Academy and Vice Chancellor of the university chaired the event. Moreover, Professor Dr. M. Nurul Islam, Pro Vice Chancellor and Morsheda Choudhury, Treasurer, World University of Bangladesh were present as special guests. Registrar, Proctor, Controller of Examinations, guardians of the participants and principals of different colleges were also present in this program.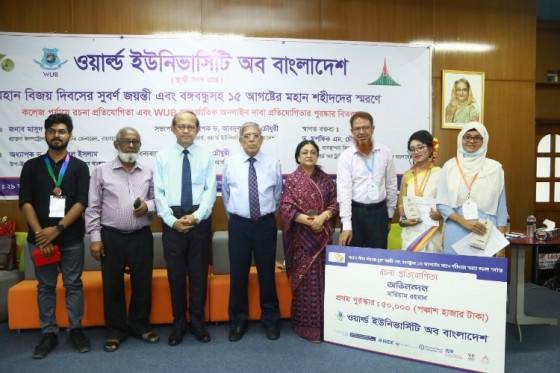 29 August, 2022
---