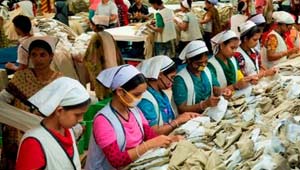 Economy
Bangladesh is a developing country, with a market-based mixed economy which predicted one of the Next Eleven emerging markets. The Bangladeshi private sector rapidly expanded with major industries such as textiles, pharmaceuticals, ship building, steel, electronics, energy, construction materials, chemicals, ceramics, food processing, and leather goods. Meanwhile, the export oriented industry has increased in recent years. The important export earning is garments sector which is contributed nearly 80%. In addition, Bangladesh has a vibrant social enterprise sector, such as Nobel Peace Prize-winning microfinance institution Grameen Bank and the world's largest non-governmental development agency BRAC. In 2018, per-capita income was estimated as per IMF data at US$4,561 (PPP) and US$1,754 (Nominal).Bangladesh is a member of the D-8 Organization for Economic Cooperation, the South Asian Association for Regional Cooperation, the International Monetary Fund, the World Bank, the World Trade Organization and the Asian Infrastructure Investment Bank.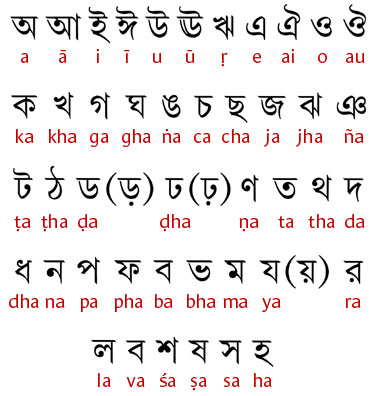 Language
More than 98% of Bangladeshi peoples are speaking Bengali language, which is the official and native language of communication. English is the second official language and widely used among the middle and upper classes and frequently used in higher education and the jurisdiction system. Furthermore, several other indigenous languages also uses in everyday tribal life such as Chakma, Marma, Rakhaine, and Tripura.
The Bangla language plays an extremely important role in the hearts and minds of Bangladeshi People. The Independence struggle and the subsequent liberation from Pakistani domination draw inspiration from the struggle by Bengalis to prevent Urdu being declared the state language of Pakistan. The struggle for Bangla gave impetus to the nascent Bangla nationalism which saw fruition in the advent of Bangladesh as a free nation after a nine month long War of Independence.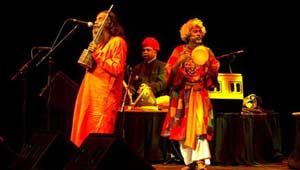 Performance arts
Theatre in Bangladesh has various forms, which include narrative, song and dance, supra-personae, performances with scroll paintings, puppet theatre and processional forms. The Jatra is the most popular approach of Bengali folk theatre. The dance traditions of Bangladesh have several forms such as indigenous tribal, Bengali dance and classical Indian dance. In addition, the music of Bangladesh categorized as Baul, Gombhira, Bhatiali and Bhawaiya. Folk music is accompanied with ektara (an instrument with only one string), and other instruments including the dotara, dhol, flute, and tabla. While, the Bengali classical music represented by Tagore songs and Nazrul geeti. Since, Bangladesh has a rich tradition on Indian classical music, which applied on various instruments such as sitar, tabla, sarod and santoor. Furthermore, Bangladesh has also strong heritage on ancient Indian art, such as painting, sculpture and architecture.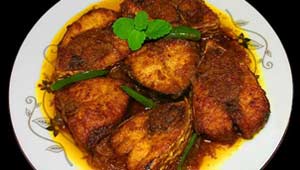 Cuisine
Rice is the main staple of Bangladeshi cuisine together with many vegetables and lentils. Rice preparations also confirmed by biryanis, pulaos, and khichuris. While, fish is the main source of protein in Bengali cuisine and hilsha fish is the national fish. Furthermore, other significant Bangladeshi fishes available all round the season such as rohu, butterfish, catfish, tilapia and barramundi. In addition, seafood holds a significant place in Bengali cuisine, especially lobsters, shrimps and dried fish. Meat consumption also important way of Bengali cuisine which includes chicken, beef, mutton, venison, duck and squab. Finally, Bangladesh also famous for various types of desserts such as Rôshogolla, Rôshomalai, Chomchom, Mishti Doiand Kalojaam. Pithas are traditional boiled desserts made with rice or fruits.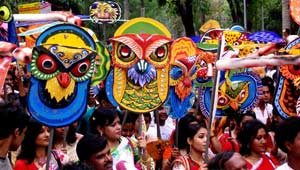 The Festivals
Pohela Boishakh is the Bengali new year which is major festival of Bengali culture and sees widespread activities. Pohela Boishakh is really about celebrating the simpler, rural roots of the Bengal. As a result, more people can participate in the festivities together all classes. Other significant cultural festivals include nabonno, and poush porbon (festival of Poush), both Bengali harvest festivals. The holidays like Eid al-Fitr, Eid al-Adha, the Bengali New Year, Independence day, Victory Day, the Hindu festivals of Durga Puja and Krishna Janmashtami, the Buddhist festival of Buddha Purnima, and Christmas, called 'the Great day', are national holidays in Bangladesh.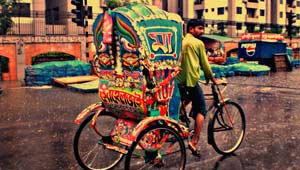 Rickshaws
The rickshaws are the most popular form of public transport in Bangladesh. There are an estimated one million cycle rickshaws in Bangladesh. Rickshaws also ply the streets of major cities in Bangladesh, as well as the countryside. Bangladeshi rickshaws are decorated with colorful posters and boards, often depicting movie stars, national monuments or religious icons.
Dhaka got rickshaw from Calcutta, where it was first introduced around 1930. European jute exporters living in Narayanganj and Netrokona (in Mymensingh) had first imported cycle rickshaw from Calcutta in 1938 for their personal use. The new vehicle roused great curiosity among the people of Dhaka, who were traditionally used to horse carriages, palanquins and city-canal boats. Initially cycle rickshaw did not receive enthusiastic response from users.
In the 1930 and early forties rickshaw became popular in Indonesia, Singapore and other Southeast Asian countries. Rickshaw is said to have reached Chittagong from Myanmar in 1919. Interestingly, rickshaw did not spread out to Dhaka and other cities of Bangladesh from Chittagong.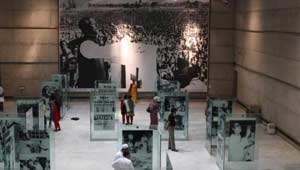 Museums and Libraries
The Varendra Research Museum is the oldest museum in Bangladesh, which holds important collections of sculptures of Pala-Sena School of Art and the Indus Valley Civilization, and Sanskrit/Arabic/Persian manuscripts and inscriptions. The Ahsan Manzil is the former residence of the Nawab of Dhaka, and situated in Lalbagh, Old Dhaka. The Bangladesh National Museum is situated in Ramna, Dhaka and has a rich collection of antiquities. The Liberation War Museum documents the Bangladeshi struggle for independence and the 1971 genocide.