South Asian Journal of Publication and Health : Vol - 8, No - 1 & 2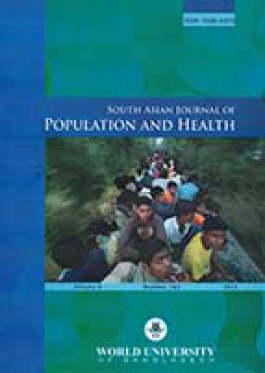 PROXIMATE DETERMINANTS OF FERTILITY IN BANGLADESH: USE OF BDHS DATA
Written by   :  MD. ARIF SATTAR1 and M. NURUL ISLAM
Based on the 2011 BDHS data the present study examines the fertility inhibiting effects of some proximate determinants using a model proposed by Bongards and Potter. The study findings demonstrate that the Bongaarts and Potter's model works fairly well in decomposing the fertility inhibiting effects in the case of Bangladesh. In 2011, the marriage pattern reduces actual fertility level below marital fertility by 29.1 percent (complement of value). Contraception has demonstrated the strongest effect on marital fertility, accounting for by 60.7 percent reduction of TN relative to TMFR. Lactational infecundability has an effect of about 49 percent in the reduction of total fecundity rate. Results are consistent with the achievements obtained so far in fertility transition observed in Bangladesh. However, it has not been possible to study the effect of spontaneous abortion viz-a-viz contraceptive effectiveness due to paucity of pertinent data.
THE PREVALENCE OF DOMESTIC VIOLENCE AGAINST WOMEN: AN ANALYSIS ON WOMEN VICTIM OF TANGAIL DISTRICT
Written by   :  MD.ISHTIAQ AHMED TALUKDER
Bangladesh is one of the fast developing countries in the world. This country suffered a lot of problems because of huge numbers of population and a lot of problems. Among all the problems domestic violence is a great one which is totally imposed towards the women in Bangladesh basically in rural area. The violence against women in family has some identifying traits of the violence prone personalities which are: extremely suspicious, passionate, dominant, irrational, immoral, easily emotionally upset, jealous, possessive and unjust. For this reason the present study aimed at explaining how women are usually become victims of different forms of domestic violence and what is the underlying factors of the prevalence of domestic violence in the rural areas of Gopalpur Thana in Tangail. Based on non-probability sampling design and survey questionnaire method the researcher has collected the sample for the study. As females become the victims of domestic violence mostly in our country, the study found that most of them have faced different forms of discrimination and deprivation of rights. In case of food, education, in the process of decision making and at working places females are discriminated. Most of the respondents are psychologically victimized. A lot of Bangladeshi women are becoming victim of physical, mental and sexual abuse which is unknown to the world as it is a silent killer type of offence as it never comes to the media and newspapers.
A STUDY OF E-WASTE AND IT'S MANAGEMENT CRISIS IN PROSPECT OF BANGLADESH
Written by   :  MD. ABDUR ROUF KHAN
The article goes for a simple but elaborate measurement of the sensitivity of human health, and environment due to the hazarders electronics waste and It's careless managements .Electrical and Electronics waste (e-waste) poses one of the greatest environmental challenges globally and in particular to all of developing countries. It is the most rapidly growing problem in the waste stream due to its quantity, toxicity and carcinogenicity. Often, the toxic material is improperly disposed and thus poses a threat to human health and the environment as well as ecosystems. Increased use of technology especially in ICT, low initial cost, and unplanned obsolescence of electrical and electronic equipment has led to an e-waste generation problem for developing countries like Bangladesh. This Article highlights the hazards of e-wastes, the need for its appropriate management and options that can be implemented in Bangladesh.
EVALUATION OF THROMBOLYTIC AND MEMBRANE STABILIZING ACTIVITIES OF ETHANOLIC EXTRACT OF LOCAL MEDICINAL PLANT PEPEROMIA PELLUCIDA
Written by   :  ZUBAIR KHALID LABU , AZIMA SULTANA JULIE1, FARHINA RAHMAN LABONI1, JALAL UDDIN1 and MD. MOSTAFIZUR RAHMAN1
Peperomia pellucida (P. pellucida), has a history of ethnomedicinal properties. The crude ethanolic extract of the whole plant was evaluated for its possible thrombolytic and membrane stabilizing activity. The activities of the whole plant extracts were evaluated by using different drugs; Streptokinase was used as standard drug for thrombolytic activity, and acetyl salicylic acid as standard drug for membrane stabilizing activity. In this study, for thrombolytic activity the standard drug Streptokinase showed 65%, the ethanolic soluble fraction of plant (ESF) 50.65%, n-Hexane soluble fraction (HXSF) 44.71%, chloroform soluble fraction (CSF) 27.66% and aqueous soluble fraction (AQSF) 22.81% and for membrane stabilizing activity, acetyl salicylic acid exhibited 71.90% inhibition of haemolysis of RBC in normal conditions where as 42.12% in heat induced conditions. In normal conditions the AQSF inhibited 40.53%, ESF inhibited 43.81%, CSF inhibited 40.95% and HXSF 56.31% while in heat induced conditions AQSF inhibited 5.43%, ESF inhibited 40.33%, CSF inhibited 33.60%, HXSF inhibited 41.11% respectively.
EXISTING ANTENATAL AND DELIVERY CARE PRACTICES AMONG RECENTLY DELIVERED WOMEN LIVING IN A BIHARI CAMP, MOHAMMEDPUR, DHAKA
Written by   :  SHAHIDUL ISLAM KHAN
The present study investigates the antenatal care services, women received during pregnancy. It identifies the services, women received during delivery of their children. A total of 143 recently delivered women having a child aged one to six months were selected purposively from a Bihari camp called Geneva camp situated at Gazanavi road under Mohammedpur police station of Dhaka city. On an average women received 3.7 number of antenatal care services by any provider. Women received first antenatal care service during their 4.5 months pregnancy. Ninety two percent of women received at least one antenatal care service; while only 49 percent received four and more than four antenatal care services during their last pregnancy. Government hospital was commonly cited as antenatal care service provider (62.6 percent); followed by non-governmental organization (18.3 percent), home (11.5 percent) and private service (7.6 percent). Most of the women (93.9 percent), however, received antenatal care service from medically trained providers. Less than one third of women (32.8 percent) reported that they decided earlier about place of delivery and 29.8 percent women selected birth attendant during delivery. One third of the respondents reported that they saved money to manage expenditure for delivery. Forty two percent of delivery took place in home followed by government hospital (41 percent), private clinic/chamber (12.9 percent) and non-government organization health center (3.9 percent) and non-medically trained provider (44 percent). Only 42 percent delivery took place at home. Husband income generating activities, i.e. husband's current occupation was found had a significant relationship with uptake of any antenatal care service. Chi-square test shows significant relationship between birth preparedness and level of income and expenditure of household.
THE ANALYZING FACTORS OF FEMALE CRIMINALITY IN BANGLADESH
Written by   :  MD. OMAR FARUK
The concept of women criminality is a unique matter to society because the society is male dominated and the women has a less opportunity to contribute with the work of men. In the last few years the rate of women criminality is increasing in our country in an alarming rate. This study explore to the role of family which provocate women to commit crime that causes of female criminality and patterns of crime committed by women and determine the nature of victim offender relationship. For the study we purposively took the Tangail Jail and Dhaka Central jail (part-3), Kashimpur, Gazipur, Dhaka as our research area. We selected the sample from convicted women to complete this study purposively and took 77 respondents for the study. This study find out more than half of the offenders belong to the middle age group 26-40, and more than half of the offenders 53.2 percent are illiterate, majority of the crime were committed by married women, most of the offenders participated in different economic activity, they are come from rural areas. All the factor of the family situation has a decisive in provocations of marginalized women to commit crime. The causes of crime were poverty, family maladjustment, landed property, oppression, lack of education, drug addiction and bad company etc. The patterns of crime committed by women in this study that's are drug dealings, murder, attempt to murder, human trafficking, women oppression, acid throwing, cheating, theft, grievous hurt etc. The study intended to establish the relationship between victim offenders that was heterogeneity in regard to age and sex.
MOBILE TOWER AND CELL PHONE RADIATION IMPACT ON HUMAN HEALTH, BIRDS, ANIMALS, ENVIRONMENTS AND AS WELL AS ECOSYSTEMS IN PROSPECT OF BANGLADISH
Written by   :  MD. ABDUR ROUF KHAN1, UTPAL KUMAR GHOSE2 and MD. MAMUNUR RAHMAN3
Along with popularity of mobile telephones, the increase in number of mobile telephone base stations (MTBS) in the country has caused great concern to public. They are generally perceived as hazardous because of the radiation they produced. The article goes for a simple but elaborate measurement of the sensitivity of human health, and environment due to the radiation of mobile phone and It's signal transmitting Tower. The possible risks by radiofrequency electromagnetic field exposure of the human body are a major concern for the society. It's exposure is sufficiently intense, it can cause biological and as well as environmental effects. It is scientifically proved that the radiations produced by the mobile phones and It's tower affect especially the brain of human being, birds, animal, and as well as environment.
THE USE OF QUALITATIVE AND QUANTITATIVE METHODS IN CRIMINOLOGY AND CRIMINAL JUSTICE: TOWARDS AN ALTERNATIVE EXPLANATION
Written by   :  MOHAMMED ASHRAFUL ALAM , MOHAMMED JAHIRUL ISLAM and SHASHI KANTO DAS
The development of knowledge is important for criminology and criminal justice system to enhance criminological inquiry. There are two predominant types of methods are available for criminologists' to use-- qualitative and quantitative methods. Qualitative methods for data collection and analysis are not mystical, but they are powerful, particularly when used to build new or refine existing theories. Quantitative method is 'Explaining phenomena by collecting numerical data that are analyzed using mathematically based methods (in particular statistics). The main purpose of this article is to introduce some important fundamental concepts of qualitative and quantitative methods for criminology and criminal justice system. The value, appropriateness and necessity of using qualitative methods is discussed. Because of the unique contributions-depth of understandings being primary that qualitative methods should be used more frequently and seen as unique, often superior approaches to the creation of criminological and criminal justice knowledge. For purpose of the study various secondary articles and documents are followed.
IDENTIFYING CHALLENGES ON INCLUSION AND ACTIVE PARTICIPATION OF PERSON WITH DISABILITY ON DISASTER RISK REDUCTION (DRR) IN BANGLADESH
Written by   :  KRISHNO SEN , MD. JULKER NAYAN , MOHAMMAD SHAMIM MIAH, MD. MOSTAK AHMED , MD. RAIHAN MORSHED and SUMANTA RAY
Disaster Risk Reduction (DRR) is becoming more effective and efficient initiatives to ensure mainstreaming for vulnerable group especially for Person with Disabilities. Despite of the programme facilities, Person with Disabilities are facing difficulties in this aspect. Therefore, the study aim was to find out common challenges on inclusion and active participation of Person with Disability in Disaster Risk Reduction (DRR) in Bangladesh. A descriptive cross sectional prospective survey was carried out among 151 respondents on the basis of inclusion criteria from a flood affected community in Bangladesh (Gaibandha district). Among the respondents, the interview was conducted by using semi-structure questionnaire with a written consent. The study revealed that most of the participants were illiterate, unemployed, and living with extreme poverty. The study finding showed that, 56% was unemployed and only 12% was bagger. Primary health education, nutrition and reproductive health as well as occupational health have a vulnerable impact among the respondents. The inaccessible infrastructure was allocated as shelter for the person with disability in their community surrounding. Moreover, flood is the main disaster on that community but this study did not find friendly inclusive early warning (EW) dissemination system for the disable person. Household level preparedness, training capacity, disability materials storages was not satisfactory. Disability inclusion on disaster and establish the rights among person with disabilities is a major concerning area in near future.
VICTIMIZATION OF THE PEOPLE IN INTER-RELIGIOUS MARRIAGE: A STUDY ON MUSLIM AND HINDU COMMUNITIES IN BANGLADESH
Written by   :  SHASHI KANTO DAS and MOHAMMED JAHIRUL ISLAM
Inter-religious marriage, traditionally called mixed marriage, is marriage between partners professing different religions is a reality of life across the globe. Inter-religious marriage typically connotes a marriage in which both partners remain adherents to their distinct religion, and as such it is distinct from concepts of religious conversion, religious assimilation, cultural assimilation, religious disaffiliation, and apostasy. With the social change in practice such marriages are widely prevalent in the society without remonstrance from any one. In the absence of any statutory recognition the spouses of such marriages and their offspring may face various legal difficulties in respect of legitimacy of children, inheritance, adoption, right of maintenance, etc. The purpose of the study was to explore the nature of victimization and find out the Governmental role to recognize their rights. For this research purpose 15 couples were randomly selected by snowball sampling procedure from the Shariatpur, Fariadpur, Barisal, Khulna and Tangail. As a qualitative research methodology, data were collected in-depth interview method with semi-structural questionnaire (Open-ended). The collected data were analyzed in descriptive way and from the findings of the research it is remarkable that the couples and the family are victimized in various ways. The study recommends that further research should be done by the Governmental agencies regarding victimization. In order to remove all the difficulties it is felt expedient that marriage among all the above classes should be given statutory recognition.
---