South Asian Journal of Publication and Health : Vol - 7, No - 1 & 2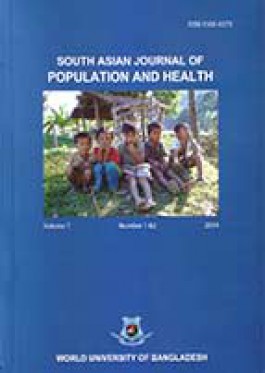 NUTRITIONAL STATUS OF REPRODUCTIVE AGED TRIBAL WOMEN IN BANDARBAN DISTRICT IN BANGLADESH
Written by   :  MD MONOARUL HAQUE, KHALEDA ISLAM, & NANTU BIKASH TRIPURA, & MD RUHUL AMIN
Reproductive health is closely related with nutritional status of a country. Women is regarded as the nerve centre of the family and society, maternal nutrition and health is consider as the most important regulator of human fetal growth. A descriptive cross sectional study was done to assess the nutritional status among 100 purposively selected reproductive aged women from Thanchi, Bandarban by utilizing of semi-structured questionnaire through face to face interview. Weight machine and height measuring tape were used. In this study mean age of respondents were 29±11 year and majority of them were Buddhist. About 49% of respondents came from lower income group (<5361>
TRENDS OF RESEARCH ON MARKET SEGMENTATION: A REVIEW OF THE LITERATURE
Written by   :  MUSFIQ MANNAN CHOUDHURY
The paper reviews the different researches conducted in the field of market segmentation. The journals that are covered are those listed in the Association of Business Schools (ABS). The review covers the area of cross national issues, product and service issues, ethical issues as well as religious issues are covered. In essence the paper contributes to the creating a platform for conducting further research in the area of segmentation.
KNOWLEDGE AND PRACTICES OF HAND WASHING AMONG SECONDARY SCHOOL CHILDREN: BANGLADESH EXPERIENCE
Written by   :  BILKIS BANU, & SHEIKH SHARMIN1, & FARZANA YASMIN, & KHURSHIDA KHANOM1
To address high incidence of diarrheal and other communicable diseases due to poor personal hygiene, it is important to have appropriate knowledge and practices regarding the issue. This study was undertaken to determine hand washing knowledge and practices among school children of Dhaka city in Bangladesh. It was a cross sectional study amongst 273 school children studied in class VI and VII in two selected schools of Dhaka, capital of Bangladesh. Data were collected by pretested structured questionnaire on November 2012 and analyzed by appropriate univariate as well as multivariate analysis. The Mean±SD of the total score (expressed as percentage) of knowledge was 36±11 and practice was 36±9 of the study subjects. Knowledge score on necessity of hand washing determined low (37%). Knowledge score (42%) on appropriate timing of hand washing found more than practice score (37%). Although most of the children (94%) found complete knowledge on appropriate hand washing materials but they did not practice hand washing properly due to unavailability of soap/liquid soap in school. On the other hand, they were practice hand washing properly in their home because parents reported the presence of hand washing facilities in home. No children had complete knowledge on hand washing techniques which also reflected in their practice. The Mean±SD of age of children was 12±1 and most of them (81%) were from single family. These variables were found to be significantly associated with total knowledge score (p<0 p=.177/.001).>
AN ANALYSIS ON THE RELATIONSHIP BETWEEN URBAN POPULATION AND CRIME: A STUDY ON DHAKA CITY
Written by   :  MD.OMAR FARUK, & RUKHSANA SIDDIQUA , & MOONMOON BINTA AZIZ2 and KAZI REBEKA ISLAM SLAM
The role of population density in the generation or suppression of crime has been the subject of debate for decades. This paper to explore the relationship between Population density and crime distribution in Dhaka city. The city has experienced a higher rate of urban growth in recent decades and it has transformed into a megacity. As such, the city is characterized by the high level of poverty, income inequality, and social vulnerability, low quality of physical and social environment and inefficient of urban ecological and demographic management. The fact that the number of crime is related to the size of a jurisdiction's population has been well established. This study reveals that, population size has no appreciable effect on violent crime e.g. murder, rape, torture, kidnapping etc. It has been examined that both property crime (e.g. theft, robbery, decoity, fraud) and recuperated (e.g. drug, arms, explosive) crimes were correlated with population density.
OBESITY STATUS AMONG PSORIASIS PATIENTS IN A TERTIARY CARE HOSPITAL IN BANGLADESH
Written by   :  MOHAMMAD ABU NASER , & MD MONOARUL HAQUE , & BILKIS BANU , & AKRAM ULLAH SIKDER1, & MD SHAH BILLAL MASUM
Obesity is associated with an increased risk of psoriasis. Psoriasis is a physically and psychologically disabling disease. In Bangladesh we are facing more patient of psoriasis. To assess obesity status among psoriasis patients in a tertiary care hospital in Bangladesh was the objective of the study. A descriptive cross sectional hospital based study was done to assess the obesity among 150 purposively selected psoriasis patients by utilizing of semi-structured questionnaire through face to face interview. Weight machine and height measuring tape were used. In this study mean age of respondents were 36±11 year and majority of them was male, married, Muslim and graduate. Most of the respondents were service holder (48%) followed by housewife (25%). Most of the respondents (70%) were from upper middle income family, 20% were from lower income family and only 10% were from high income family. The key findings of the study, overweight, obese1, obese 2 and obese 3 was 41%, 23%, 6% and 3% respectively among psoriasis patients. Most of the respondents had the habit of walking but playing, swimming and instrumental exercise was negligible. Significant association was found between sex and nutritional status (p= 0.045<0 p=0.05>0.05). The psoriasis patients found overweight with less physical activity and more intake of rich food which are increased risk for chronic diseases related to obesity, worsening of the psoriasis lesions and poor quality of life. Clinical recommendations to reduce weight in obese patients with psoriasis may have beneficial effects in both obesity-associated co-morbidities and possibly their psoriasis severity.
OCCUPATIONAL STRESS IN RELATION TO GENERAL HEALTH AMONG THE BANK EMPLOYEES: DHAKA CITY
Written by   :   MS. NASIMA , & NAZNIN ALAM and FAHIMA MAHJABIN1
The purpose of the study was to assess the level of occupational stress and how stress is related to General Health among bank employees. A sample of 100 employees both male and female was randomly selected from different types (public, private, foreign) of bank in Dhaka city. The result shows that there is a significant difference found between the types of bank. A number of factors identified from our analysis. Hence it is concluded that increase of occupational stress affects the general health of the Bank employees.
RESPONSE OF POTASSIUM ON THE YIELD AND YIELD COMPONENTS OF SOME HIGH YIELDING LENTIL VARIETIES
Written by   :  SADIA ABEDIN and M. ARIFUR RAHMAN
The present study was conducted to investigate the effect of varieties and potassium on the production of lentil under the agro-climatic condition of Rajshahi. The experiment was conducted with four varieties of lentil viz. BARI masur-1 (V1), BARI masur-4 (V2). BARI masur-5 (V3) and BARI masur-6 (V4) and five potassium levels viz. 0 kg K ha-1 (K0), 15 kg K ha-1 (K1), 25 kg K ha-1 (K2), 35 kg K ha-1 (K3) and 45 kg K ha-1 (K4). The effect of varieties and potassium levels were investigated on twelve agronomic parameters. The study results revealed that all parameters were significantly affected due to different varieties (except harvest index) and potassium levels. The interaction effect of varieties and potassium levels were also statistically significant for number of plant unit area-1, total pods including effective and non-effective pods plant-1, length of the pod, and harvest index. The experiment was carried out using RCBD design. The interaction effect of BARI masur-6 with 35 kg K ha-1 (V4K3) produced the highest grain yield (1880.70 kg ha-1) and that of BARI masur-1 with control level (V1K0) produced the lowest grain yield (827.60 kg ha-1). The present study divulges that the interaction of BARI masur-6 and 35 kg K ha-1 could be the most suitable combination for increasing lentil production.
UTILIZATION OF THE HEALTH CARE SERVICES IN UHC AND UHFWC IN COASTAL AREAS OF BANGLADESH
Written by   :  MD. SHAMIM MIAH
In this study utilization of maternal and child health care in two types health facility namely Upazila and Union Health and Family Welfare Center in coastal area was investigated. The findings show that in the costal area maternal and child health care services are affected by various factors such as internal communication network, transportation facility, distance of the health facilities and health care infrastructure. Discussions with program managers and other health care providers do not arrange satellite clinics which are far away from the health facility and due to poor communication in the costal area. Besides, frequent calamities also affected regular services in the coastal area. The study revealed that about one third of the program managers opined that about one third service recipients could not MCH services because providers failed to organize satellite clinic and FWV did not visit client house due to poor communication after natural disaster. Shortage of doctors and field level health service professionals were also important reasons for not receiving MCH services in the coastal area. The analysis suggest that community characteristics such as distance to health facilities, availability of transport and physicians and other technical staff will play significant role to reduce the barriers of health services in coastal areas of Bangladesh in future.
---