South Asian Journal of Publication and Health : Vol - 2, No - 2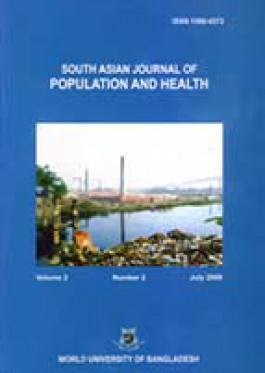 INEQUITY IN SAFE MOTHERHOOD IN SLUM AND NON SLUM AREAS OF BANGLADESH: EVIDENCE FROM MULTIPLE INDICATOR CLUSTER SURVEY 2003
Written by:MUHAMMAD TAREQ, A. K. M. ZAHIRUL HAQ, MUHAMMAD SHUAIB and A. K. M. ABDUL SALAM
Generally the civic amenities and other facilities essential for standard healthy life are less accessible in the slum and rural areas than in the urban areas in Bangladesh. This might have some implications on safe motherhood in the slum and rural areas. We want to know how far the data support this assertion. The main objective of the study is to present the features of the safe motherhood status in the slum area in comparison to the rural and the (non slum) urban ones, inside the study area consisting of Dhaka and Chittagong divisions. The study also presents the comparative scenarios of the safe motherhood status between these two divisions. The data used in the study have been derived from Multiple Indicator Cluster Survey (MICS) 2003 conducted by Bangladesh Bureau of Statistics (BBS). To analyze the data, cross tabulation technique with chi square test and logistic regression model with Wald test have been employed. Some important findings were found from the study results. The study shows that most of the mothers had received ITT doses' irrespective of areas and the percent of mothers receiving 'antenatal care service' was much lower in all the areas in comparison with 17 dose. Again, regarding the components 'place of delivery' and 'assistance during delivery', the features were not found to be good enough and the situation of rural areas was very much disappointing. Besides, it is beyond proof that slum mothers have much lower socioeconomic status, but interestingly, as evident from the study results, they availed higher status of safe motherhood than that of the rural mothers.
HOUSEHOLD FOOD SECURITY AND NUTRITIONAL STATUS OF UNDER TWO CHILDREN: A COMPARATIVE STUDY BETWEEN A SELECTED NNP AREA AND A NON PROJECT AREA
Written by:M. A. HOSSAIN and M. A. H. BHUYAN
This cross sectional comparative study was conducted in Muradnagar upazilla of Comilla district to assess and compare the nutritional status of children (0 23 months) drawn from households participating in a NNP project vis á vis another non project area and also to assess the level of household food security in terms of access in both of the areas. A total of 240 households, of which 120 were from the NNP project area with children aged between 0 23 months were randomly selected. Indices of nutritional status that is weight-for age, length for age and weight ¬for length were computed using the WHO/NCHS Anthro program. The prevalence of underweight (< 2SD>
DEMOGRAPHIC EFFECTS IN DEMAND ANALYSIS: ESTIMATION OF AIDS MODEL FROM HOUSEHOLD BUDGET DATA
Written by:ANUPAM DUTTA
The purpose of this paper is to investigate the impact of demographic variables on demand behavior by applying an extended version of the most widely used Almost Ideal Demand System (AIDS) model of Deaton and Muellbauer (1978). The AIDS model used here has been extended to include various demographic variables such as - family size and dependency ratio and then estimated by using the Household Income and Expenditure Survey (HIES-2000) data of Bangladesh containing 7440 households. With regard to these demographic variables, it is found that family size and dependency ratio have a statistically significant effect on demand behavior. Additionally, the budget shares are found to be more responsive to per capita total expenditure than to prices.
IMPACT OF EARLY MARRIAGE AND EARLY MOTHERHOOD ON FERTILITY AND THEIR CORRELATES: A STUDY ON BDHS 2004
Written by:SAYEMA SHARMIN, ARMEEN MAHBUB and WASIMUL BARI
Female age at marriage and age at first birth are the two important proximate determinants of fertility particularly in Asian societies. This paper attempts to examine the contribution of these two proximate determinants on the level of fertility in Bangladesh based on the date from BDHS 2004. The selected determinants are further analyzed in relation to women's and their husbands' socio-demographic characteristics. It is found that an increase in the female age at marriage and age at motherhood can significantly reduce the level of fertility. Most of the variables considered showed statistically significant association with both age at marriage and age at motherhood. However, education of he respondents showed the most pronounced association. Among other variables studied, husbands education, bother respondents' and husband's occupation and exposure to television also shoed significant association with both the proximate determinants.
FACTORS ASSOCIATED WITH MATERNAL PRENATAL CARE STATUS IN URBAN SLUMS OF DHAKA CITY, BANGLADESH
Written by:M. ZAKIR HOSSAIN
In this paper an attempts has been made to focus on maternal health care during pregnancy in the urban slums of Dhaka city. Bivariate analysis as well as logistic regression analysis has been performed to determine the factors influencing maternal health care during pregnancy in some slum areas. From the analytical result it has been found that most of the slum women are illiterate and their food, treatment facilities, economic status etc are below a certain standard. The role of education of respondents and their partners were found to be significant in receiving proper care during the period of pregnancy. Household status in terms of food and necessary consumption has significant contribution to receiving prenatal care during pregnancy of slum women for giving birth. The women who used family planning method faced fewer complications because of receiving proper care during pregnancy than the women who did not. Also it is observed that the Muslim slum women visit hospital or doctor for receiving prenatal care during pregnancy less than the women of other religious because of religious dogmas.
KNOWLEDGE AND ATTITUDE OF PREGNANT WOMEN ABOUT BIRTH PLANNING PROCESS
Written by:MOHAMMAD ARIF SATTAR, M. A. RASHID, MOHAMMED AHSANUL ALAM, H A RASHID, ASHRAFA AKHTER AND JESMIN SULTANA
Data on Birth Planning Process are extremely limited in Bangladesh. This paper is based on data collected jointly by BMRC and ARTCOP on Knowledge and Behaviour of Pregnant Women on Birth Planning Process. The objective of the paper is to present study finding scientifically among Program Managers, Service Providers, Researchers and other Stakeholders; Share the experiences of exiting Birth Planning Process in Rural Bangladesh and explain the present situation of pregnancy related services available at community level. It is clear from the study finding that, in practice, no respondents have complete knowledge about different steps of birth planning process. After prompting some of the respondents gave partially positive answers regarding the steps and events of birth planning process. About 68 percent women have correct knowledge about government sanctioned age of marriage. Most women (74%) are a aware about government encouraged age at first birth. Knowledge about contraceptive methods is universal among the pregnant women. However, only 67 percent pregnant women have used any contraceptive method before current pregnancy. About 83 percent women viewed that the first pregnancy happened according to their desire and more than two-thirds (68%) women had their first pregnancy within 1-3 years of marriage. About 68 percent pregnant women can say the consequences of early marriage, while 70 percent pregnant women have understanding on major complications supposed to face during pregnancy. About two-thirds pregnant women are aware about availability of services. However, 30 percent mothers have knowledge about care of mother and child. The most common source of service is government service providers and field workers (87.9%) and 85.9 percent women identified public facilities as the key service center.
KNOWLEDGE OF MEN ABOUT SEXUALLY TRANSMITTED DISEASES AND HIV/AIDS AND FACTORS AFFECTING THEM
Written by:M. SHAHJAHAN, RUSSELL KABIR, KHALED S. ISLAM and H A RASHID
HIV/AIDS transmission is an emerging public health issue in Bangladesh. Therefore an understanding of how prevention and intervention lead to behavioral change and how behavioral change leads to reductions in HIV prevalence is crucial. This study aims to assess and gain an understanding of the high risk sexual behaviors of men, their knowledge on AIDS and modes of its transmission. It is a descriptive cross-sectional study. A total of 615 married men were interviewed for this purpose. Data were collected through an interview schedule in six different NGO managed working areas. They study was conducted in Dhaka (Agargaon), Narayangonj, Narshingdi, Tangail, Narail and Gaibandha from January to June, 2007. Over eighty nine percent of the men believed that spouses could be affected by STDs of their partners. Of the respondents, about 73 percent reported that men are more vulnerable to transmission; 95 percent of the men reported that multiple partners are the causes of more vulnerability and 82 percent of the male respondents believed that the use of condoms could prevent STDs. Just over 76 percent of the men were knowledgeable about reproductive tract infection; 74.1 percent reported that the sources of Reproductive tract infection prostitutes, 37 percent reported ignorance about the use of condom and 31 percent reported multiple sexual partners. Overall about 92 percent of the men had heard of AIDS and most were fairly informed of transmission risks. Logistic regression analysis revealed that education and monthly income were the most important correlates of knowledge level of men on HIV/AIDS. Men with a primary level education or less were significantly less likely to have knowledge on AIDS than those who had secondary and higher level of education. The reduction of risky sexual behavior of men is the key to reducing HIV transmission in Bangladesh and has the power to change the course of the AIDS epidemic.
DIFFERENCES IN CIGARETTE AND ALCOHOL CONSUMPTION PATTERNS FOR RECENT MIGRANTS AND NON-MIGRANTS LIVING IN KANCHANABURI, THAILAND
Written by:RUMANA A. SAIFI
Migration is often associated with uncertainty, vulnerability and stress. Using data from the 2000-2003 Kanchanaburi Demographic Surveillance System (KDSS) in Thailand, we explored whether migration has any effect, positive or negative, on health risk behaviors of migrants. In order to examine the relation between migration and health risk behaviors, two separate migration and health risk models were developed. These models focus specifically on the relationship between migration and smoking, migration and alcohol consumption respectively. We hypothesized that the practice of health-risk behaviors are likely to be higher among migrants than non-migrants. They analyses support this argument. In general, this hypothesis holds true for the health risk variables considered. The study identifies migrants as a clear target group for campaigns aimed at decreasing smoking and alcohol consumption. Therefore, an important task for policy makers is to design appropriate intervention strategies targeting the migrants and their risk behaviors. During fiscal years 2001-2003, the non-smoking campaigns undertaken by 'The Action on Smoking and Health Foundation', Thailand were mainly targeted to children, youth and women. However, the present study calls special attention for the migrants. Migrants can also be considered as the vulnerable group along with children, youth and women.
A REVIEW OF THE DETERMINANTS OF ABSENTEEISM A RESEARCH COMMENTARY
Written by:ABDUL MANNAN CHOUDHURY and MUSFIQ MANNAN CHOUDHURY
The absenteeism in terms of inability, appropriateness or an unwillingness to work, is a fact or life besides being a universal phenomena and as such a sizeable body of literature exits in connection with it. These studies focus on the meaning, functions, impact and strategies to deal with the absence phenomena. Many of these studies also pinpointed that there was no effort to put the findings of absenteeism studies in some theoretical construct or what may be called a theory of absenteeism up till 1966. Before that, the rule of thumb approach or consideration of various isolated facts resulted in 'pseudo-theories' specific to absences but unrelated to broader theoretical framework. Thereafter, a number of theories came in focus and the social exchange theory was adjudged to be the most comprehensive and appropriate theory to explain the absence phenomena. This theory not only created sensation in the West but also influenced the thought process of scholars in other countries. But recently scholars sided with a theory which appears to be an amalgam of Social Exchange Theory and the Process Theory i.e. The Social and Cultural Model. This theory has been tasted in the context of Bangladesh and appears to be reasonable, workable and sensible. And this is the contention of this paper.
---