South Asian Journal of Publication and Health : Vol - 3, No - 1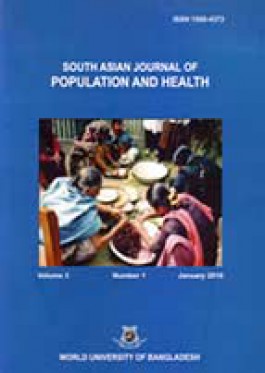 ROLE OF WOMAN'S EDUCATION ON HER KNOWLEDGE OF HIV/AIDS IN NEPAL
Written by:NASHID KAMAL and NUSHRAT Z AHMED
Although general prevalence rate of HIV/AIDS in Nepal is 0.5%, the country has reached a "concentrated epidemic' amongst its vulnerable population. Various studies have shown that although AIDS awareness programmes do have some positive effect on raising awareness, providing education to the people serves as a vaccine against AIDS. Currently in Nepal, HIV prevalence is high amongst sex-trafficked women and the levels of awareness amongst women in general is low. Due to political instability the formal schools are experiencing closure and total education sector is doing poorly. This study uses the Nepal DHS 2006 to investigate the role of formal education on the knowledge of HIV/AIDS among women in Nepal. Using a binary logistic regression model, the study finds that women's secondary education is the most significant predictor of HIV/AIDS knowledge in Nepal (OR-15.8 95% CI: .9.7, 25.5). Apart from this variable, socio-economic status, ecological region of residence, urban-rural residence, exposure to mass media in the form of TV, Radio and newspaper have statistically significant association with knowledge of HIV/AIDS. Linear splines were constructed for the variable "age of woman'. In the short run, Nepal should increase the HIV/AIDS awareness programmes targeted towards illiterate/primary educated woman and amongst women from Terai region and in poor socio-economic groups. In the long run, secondary education of women must be strengthened in Nepal to achieve higher levels of HIV/AIDS awareness. Joint intervention with India is recommended for areas with low awareness, having high sex trade and having border towns with India.
DOMESTIC VIOLENCE IN BANGLADESH: PREVALENCE AND DIFFERENTIALS
Written by:M. NURUL ISLAM, MD. ARIF SATTAR and DHANESWAR CHANDRO SARKAR
Domestic violence is a common phenomenon in Bangladesh due to some uncommon and peculiar characteristics of Bangladeshi society. This includes, among others, the restrictions of women's movement outside their homes, unequal access to education, restricted employment opportunities, women's limited ability to exercise their human rights, all of which make them more vulnerable to violence. Although the study of violence against women is of crucial importance for any society, no reliable data are available for the study of violence against women in Bangladesh. The BDHS for the first time made a modest attempt to gather data on the domestic violence. The BDHS measured spousal violence with a shortened and modified Conflict Traces Scales (CTS). Analysis of data reveals that about 53 percent ever-married women have experienced some form of physical and/or sexual violence while 13 percent have experienced both. Slapping is the most common act of physical violence in Bangladesh. Older women are more likely to have ever experienced physical violence than their younger counterparts. Parity is positively related to the experience of physical violence. Rural women are slightly more likely to become victims of physical and sexual violence than urban women. Regional differences in the spousal violence are marked. Education is a strong determinant of physical and sexual violence. The study indicated that approval of at least one reason for wife-beating is invariant with respect to age, marital status, urban-rural residence, employment status, or number of children of women. Younger men, men with no education, rural men, and men in the lowest wealth quintile are more likely to agree with at least one of the reasons for wife's beating. Experience of wife-beating is inversely related to educational level and household wealth. Men's beliefs, like women's, vary slightly be region. Men in Barisal are most likely to agree to the fact that wife-beating is justified for al least one of the reasons given.
DEMAND FOR ANTENATAL CARE IN BANGLADESH: AN APPLICATION OF TWO-PART MODEL
Written by:MD. ABDUS SALAM AKANDA
Despite improvements in public health in recent decades, levels of infant and child mortality remain unacceptable high, particularly in developing countries where primary healthcare services including antenatal care services are not universally available. However, even though there is a growing interest in publishing about antenatal care use, evidence concerning which, and how socioeconomic conditions influence whether a pregnant woman demands or not antenatal consultations on the assumption that the theoretical access to this service has not entry barriers, is still limited. In order to generate this evidence, a two-stage analysis was performed with data gathered on the Bangladesh Demographic and Health Survey (BDHS) during 2007. The first stage was run as a logistic regression model showing the marginal effects on the probability of attending the first visit and an ordinary least squares model was performed for the second stage accounting for the absences to antenatal consultations once at least one visit was carried out. It was found that mothers living in the Chittagong division as well as young mothers seem to have a lower probability of attending the first visit but these factors are not related to the number of absences to antenatal consultation once the first visit has been achieved. Some familiar and personal conditions such as willingness to have the last children and number of previous children, demonstrated to be important in the determination of demand. The effect of mother's educational attainment was proved as important whereas the father's educational achievement was not. This paper provides some elements for policy making in order to increase the demand inducement of antenatal care, as well as stimulating research on demand for specific issues on health.
EATING BEHAVIOUR, FOOD PREFERENCES AND NUTRUTIONAL STATUS OF AFFLUENT SCHOOL ADOLESCENTS OF DHAKA CITY
Written by:ATIYA NAJMA NUR, SHARMIN HOSSAIN, MD. RUHUL AMIN and LUTHFOR AHMED
This cross-sectional study assesses the food preference, eating pattern and nutritional status of 13 to 15 years old adolescent students from the affluent section of Dhaka city. Food consumption was recorded using food frequency questionnaire. Food preferences were calculated by 3-point scale. Weight and Height were measured to calculate BMI. Overweight and obesity was defined as BMI>85th and >95th centile respectively of the NCHS reference data. Pearsons correlation test between food preference and food consumption was performed. Reported intakes of most food items correlate with reported preferences. High preference for fast food, beverages, milk products like ice-cream and sweets was observed. Most frequently consumed foods recorded were rice, bread, chicken, eggs, non-leafy vegetables and fruits. Snacks like cookies and sandwiches are frequently consumed. High fruit consumption was reported by the girls than the boys (p<0>
DOMESTIC VIOLENCE AMONG THE HEAVY VEHICLE DRIVERS' FAMILIES: A SOCIAOLOGICAL STUDY
Written by:MOHAMMAD MAHBUB ALAM TALUKDER, MD. SHAHJAHAN and MD. SHAHIDUL ISLAM
Violence one of the current burning issues in rural and urban lives needs drastic remedial policy action. Domestic Violence created frequently causes injuries and disabilities to their families and conjugal lives. Everyday, a significant number of drivers' wives are brutally tortured causing physical, mental, psychological disabilities. More reasons behind this include drivers' suspicion about their wives' affinity with other male partners and vice-versa, a long-time away from family creating mistrust and taking of drug. Their association with bad companies, gambling, taking of wine and over taking of tea cause insomnia, poverty and ultimately their unemployment. The study aimed to identify the principal factors for violence which cause injuries and disabilities to the victims of heavy vehicle driver' families. They study was conducted during January to June 2009 in different slums and colonies of Dhaka city. In total, 942 drivers' wives aged from 15-49 years were interviewed by using purposive sampling method. Two mixed methods (quantitative and qualitative) were used to collect information through structured questionnaire, observations, in-depth interviews, key-informants interviews, case studies and other PRA sessions. The study showed that 65 percent of the 612 wives were victimised and injured due to domestic violence. Of them 75 percent were injured by the drivers directly immediately after their returning from a long day's stay outside the home or just few days later. About 15 percent wives were abused and mistreated by mothers-in-law and 10 percent by sisters-in-law and others. The victims explained the type of committing violence that 45 percent were severely assaulted physically; 35 percent were mentally shocked (filthy and abominable remarks) and 20 percent were tormented both physically and mentally. To prevent these types of violence, injuries and deaths of wives and their children, the government, donors and NGOs should take immediate community managed participatory interventions, and anti-violence preventive approaches are badly needed in this connection.
NUTRITIONAL STATUS OF TYPE-2 DIABETIC AND NON-DIABETIC MENOPAUSAL WOMEN IN BANGLADESH
Written by:MD. RUHUL AMIN, LUTHFOR AHMED, FARZANA SALEH, SHIRIN JAHAN MUMU, FADIA AFNAN and LIAQUAT ALI
There are few reports on the nutritional status of menopausal women in Bangladesh. The aim of the study was to describe the socio-demographic and anthropometric factors, energy, nutrients intake and food habit of menopause women with or without diabetes and to compare between the groups. In this descriptive cross sectional study 99 female (50 T2 diabetic and 49 non diabetic) aged more than 40 years who are attending a specialized hospital (BIRDEM) were enrolled based on the willingness to participate in the study. Dietary intakes were collected by an interviewer administered quantitative 24-hour recall for past 7-days. Average daily intakes of total energy and nutrients as well as the food habit were recorded for each case. Weights and heights were measured from which the Body Mass Index (BMI) was calculated. Mean age of the post menopausal women was 53.42 for diabetic and 50.49 for non-diabetic. The mean daily energy and nutrient intake among the non-diabetic menopausal women were adequate compared to Recommended Dietary Allowance (RDA) than the diabetic group, and the difference in intake between the groups was found significant (p<0>
POPULATION GROWTH OF BANGLADESH: PAST, PRESENT AND FUTURE
Written by:ABDUR RAZZAQUE
Population growth in Bangladesh was historically very low due to a high mortality rate but increased rapidly after World War 2, mainly because of a decline in mortality. The fertility rate declined remarkably in more recent years mainly due to the national family planning programme, but the total population is increasing alarmingly and is likely to cross 217 million by the year 2050, even if replacement level fertility is attained by 2015. According to Assumption-2 (replacement fertility by 2015), the population of under 15 years would decline by 15% (51 to 43 million) between 2001 and 2050, but it will increase by 61% (64 to 103 million) for age - 15-49, by 350% (10 to 45 million) for age 50-64 and by 420% (5 to 26 million) for age 65 or more. To reduce size of the stationary population, family planning services along with actions to reduce demand for children are essential but measures should also be taken to reduce the effect of population momentum which would cause most of the future population growth (70-80%).
COVARIATES OF EARLY CHILDBEARING IN BANGLADESHI WOMEN: AN ANALYSIS OF OPEN BIRTH INTERVAL (OBI)
Written by:MD. ROSHIDUL ISLAM, DHANESWAR CHANDRO SARKAR and MD. NURUL ISLAM
Every pregnancy faces risks - high or low during her childbearing period. In this paper, the discriminant analysis of high-risk and low-risk childbearing in the context of birth interval suggests that out of eleven variables, seven are discriminating the high-risk childbearing from the low-risk childbearing. It has been found that marital duration is found to have most significant effect on birth interval. The other significant variables are contraceptive use, mother's education, age at first marriage, religion, place of residence and women work status. In this analysis, the size of eigen value (0.650) is related to the discriminating power of the function. This value shows that discrimination of two groups of variables is present. Another way to judge the substantive utility of a discriminate function is by examining the canonical correlation coefficient (0.570). The value of overall chi-square is 665.537, which indicates those ultimately discriminatory variables of high-risk and low-risk mothers, is significant. The study will utilize data from the 2004 Bangladesh Demographic and Health Survey (BDHS) employed a nationally representative, two-stage sample that was selected from the master sample maintained by the Bangladesh Bureau of Statistics (B B S) for the implementation of surveys
NGOS ROLE IN SLUM DWELLING ADOLESCENT MOTHERS REPRODUCTIVE HEALTH SERVICES: PROGRAM APPROPRIATENESS AND LIMITATIONS
Written by:M. M. TALUKDER, M. SHAHJAHAN, M. S. ISLAM AND M. M RAHMAN
The study reveal that the slum dwelling adolescent mothers and other people in general prefer to meet the reproductive health needs from the traditional healer including quake doctors for curing illness and health hazards seeking behaviour. It was due to deep-rooted belief about the indigenous health care system which had greater influences on slum people although modern healthcare paid services from the NGOs and other organizations were available by affecting cultural pluralism. The findings expressed that the performances of service deliveries by the NGOs and Government organizations were appreciated but there were huge conflicts and lacking of appropriate target oriented plan intervention and depletion of long-term sustainable strategy to mitigate the existing demand of the slum mothers and community to improve the demand led health services. There would be longer-term sustainable environmental friendly concerned development strategy and approaches incorporation to community welfare focused on livelihood. Program would have to be launched by community participation, and execution process would be represented the direct involvement of poorer section of the slum community people, particularly it should emphasize the adolescent's maternal and reproductive health issues. In this regards a pilot project should incorporate to address the proper needs and adolescent rights to be established for the vulnerable adolescent mothers and concern groups to ensure quality reproductive health services to enhance to reduced maternal mortality and morbidity thus improve livelihood condition of the slum dwellers.
---