Office of the Registrar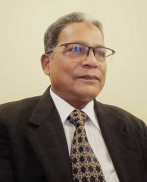 Abu Zaheed
Assistant Registrar
?Since the beginning of my career I have had the opportunity of working in an internationally reputed cultural organization. I worked for the British Council for 23 years and retired from service in 2019. I worked in the Examination Services section, conducting "O" and "A" Level and IELTS exams for the University of Cambridge and Edexcel. The British Council Examination Section also conducts professional exams such as CIMA, BPTC, ACCA LLB, PLAB, MRCP and MRCOG. My main areas of responsibility were.
International Exams Administration
Risk Management
Stakeholder Management     
Business Planning
Logistic Management 
Customer Facing
Team working
Flexible
Accomplished mandatory trainings on Child Protection, Health and Safety, First Aider, Information Management.
Personal Interest: Avid traveler, Sports –Soccer
I joined The World University of Bangladesh as an Assistant Registrar (International Affairs) on March 3rd, 2022.
The International Affairs (IA) provide services, and support to the international students. The IA is committed to developing liaisons, mutual understanding, and agreements with universities. The IA also promotes University internationally. The main aims are to handle collaborations between WUB and other reputed universities as well as to serve international students of WUB. The IA organizes a separate orientation program for the international students each semester so that the students can feel welcomed. Issue Recommendation letter to extend the VISA and to obtain the exit VISA. If the student faces any personal problems (harassment, bullying, etc.), the IA helps out that student. The IA always keeps the wellbeing of the students in mind. 
---