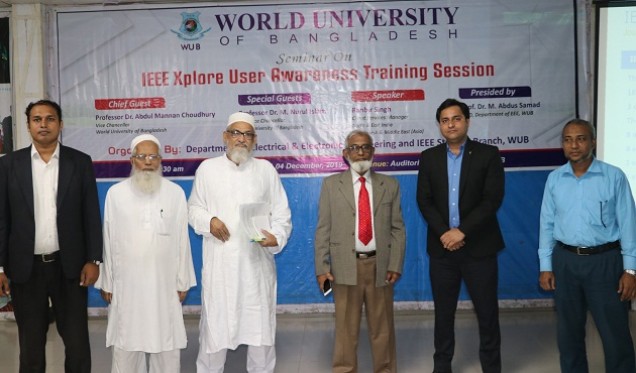 Seminar on IEEE Xplore User Awareness Training Session
Department of Electrical and Electronic Engineering, World University of Bangladesh (WUB) organized a seminar on "IEEE Xplore User Awareness Training Session" on December 4, 2019 at the auditorium of WUB main campus. Honorable Vice Chancellor of the University, Prof. Dr. Abdul Mannan Choudhury was the Chief Guest while Prof. Dr. M. Nurul View details
05 December, 2019
Celebration of National Textile Day - 2019
Having embedded in the slogan 'Globalization in Textiles and Sustainable Development' the first ever National Textile Day has been celebrated on Dec 04, 2019 with much enthusiasm with  different activities throughout the country. In order to raise the awareness regarding facing the challenges of 21st century and Industrial 4.0 View details
04 December, 2019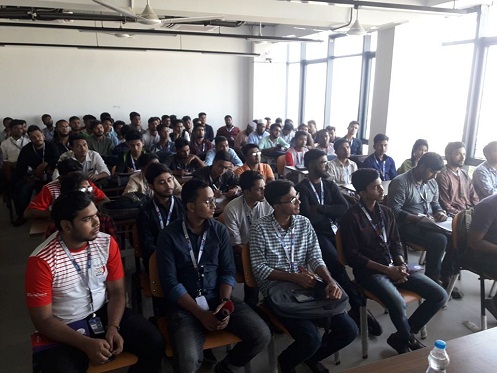 Seminar on Industrial 4.0, Sustainability and Textile Talent Hunt Program 2019-20
Textile Talent Hunt, an initiative taken by Bangladesh Textile Today is the first ever talent grooming competition for the undergraduate students of science faculties. The focus of this program is to prepare the future leaders to adopt latest developments by involving them in research or knowledge generation projects in a modern approach View details
02 December, 2019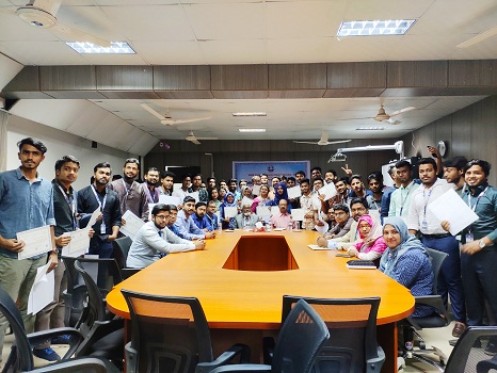 VOLUNTEERS' APPRECIATION CEREMONY
The Department of Textile Engineering, World University of Bangladesh embraced its 10th year of celebration organizing a three-day long debate competition titled 'WUB National Debate Championship'19'in association with Bangladesh Debate Federation. The debate competition held on 26th-28th September 2019 where thirty-two prominent colleges View details
25 November, 2019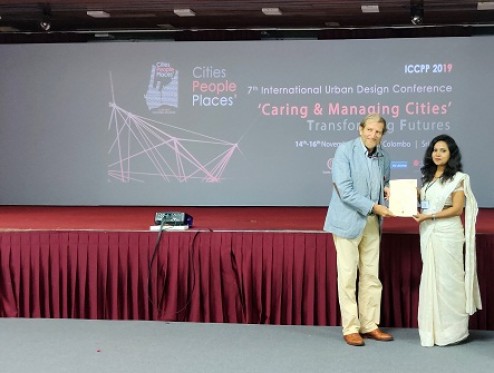 CONGRATULATIONS TO ZENAT ISLAM FOR "BEST PAPER AWARD"IN INTERNATIONAL CONFERENCE
Congratulations to Zenat Islam, Acting Head, Department of Architecture , World University of Bangladesh for being awarded "Best Paper Award" in the 7th International Conference on 'Cities, People and Places (ICCPP 2019) ' at Colombo, Sri Lanka for her Research Paper 'Urban Informality: Analyzing the present scenario of Dhaka City and View details
21 November, 2019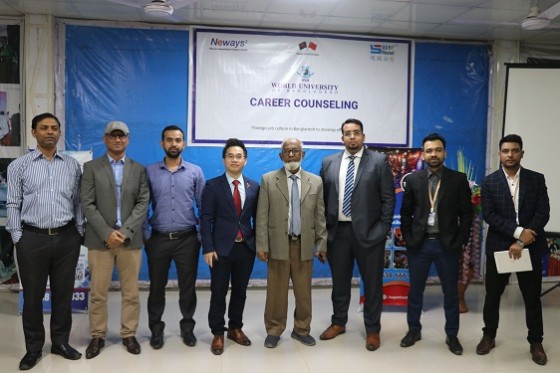 JOB FAIR AND CAREER COUNSELING
World University of Bangladesh organized a Job Fair and Career Counseling Session in association with Neways International Company Limited on November 20, Wednesday 2019 in the city campus. In the job fair, Neways International Company Limited announced recruitment for full time and part time jobs of 13 positions and collected seventy CV from the View details
21 November, 2019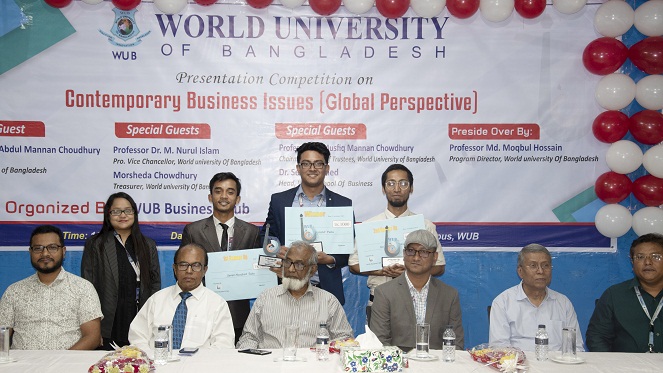 PRESENTATION COMPETITION ON "CONTEMPORARY BUSINESS ISSUES (GLOBAL PERSPECTIVE)"
WUB Business Club successfully completed a Presentation Competition on "Contemporary Business Issues (Global Perspective)". There were three rounds in selecting the best presenters. The Final round held on October 31, Thursday, 2019, at the City Campus of World University of Bangladesh.The special guest of the presentation competition was View details
04 November, 2019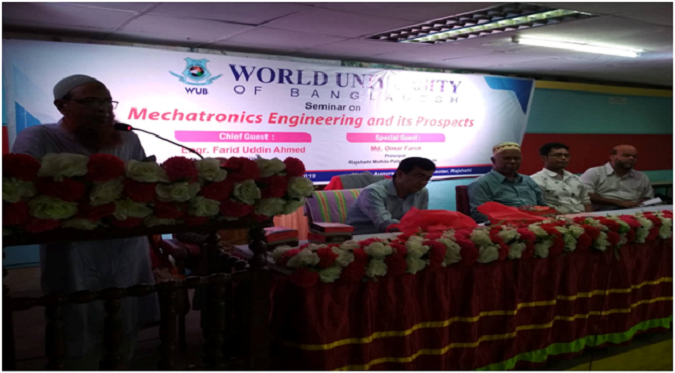 SEMINAR ON "ASPECTS OF MECHATRONICS ENGINEERING IN BANGLADESH"
World University of Bangladesh has organized two seminars, one at Chapai Nawabgang and the other at Rajshahi on 24th and 25th October 2019 respectively. The prime objectives of the seminars were to promote Mechatronics Engineering in future and to assess the contribution of World University of Bangladesh in this respect. The first seminar was View details
29 October, 2019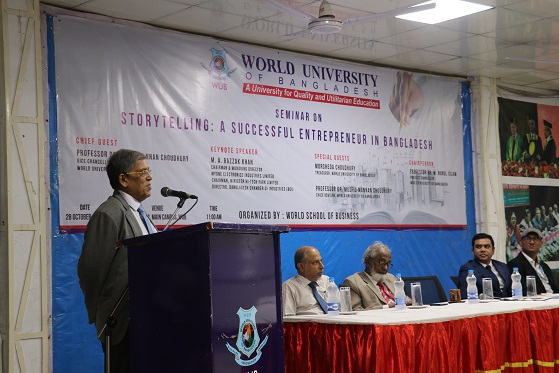 SEMINAR ON "STORYTELLING: A SUCCESSFUL ENTREPRENEUR IN BANGLADESH"
World School of Business organized a Seminar on "Storytelling: A Successful Entrepreneur in Bangladesh" on 28th October, 2019 at WUB City Campus, Auditorium. Professor Dr. Abdul Mannan Choudhury, Vice Chancellor, World University of Bangladesh was present as the Chief Guest. The Keynote Speaker was M. A. Razzak Khan, Chairman & Managing View details
28 October, 2019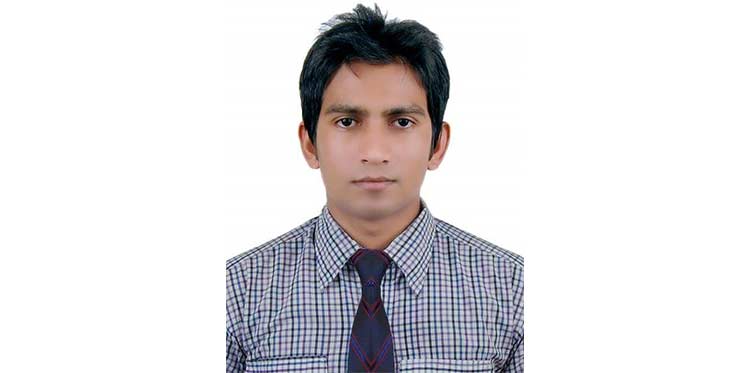 WUB CONGRATULATE ATIKUL ISLAM
Atikul Islam from Department of Textile Engineering, World University of Bangladesh has enrolled M.Sc. in Power Engineering and Thermo-Physics in Fall Semester (2019) at Changsha University of Science and Technology, Changsha, Hunan province, China with fully funded scholarship. We, WUB family wish that he will be successful in his future endeavor View details
24 October, 2019