vice chancellor Profile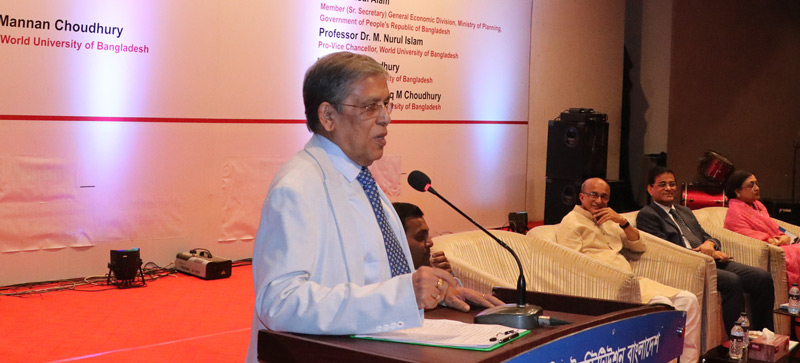 Professor Dr. Abdul Mannan Choudhury is a nationally and internationally famed personality. He had his education and higher degrees from Dhaka, Manchester and London with outstanding results. Dr. Choudhury has spent almost 44 years in teaching at home and abroad, published substantial number of academic and non-academic work. Besides being a successful teacher in the Department of Commerce and Department of Management and Department of Management Information Science (MIS) Department of Public Administration of Dhaka University and also in Bayero University, Kano, Nigeria. He was Chairman of the Department of Management and founder Director of the Evening MBA Program of the same department and the founder Chairman of the Department of Management Information Systems and was instrumental in launching of the Tourism and Hospitality Management Department of the same faculty. He was an Architect of the present day monumental physical structure of the faculty. Other roles he played include editor of Faculty Journal, Proctor of Dhaka University, Provost of Salimullah Muslim Hall, Member of the Finance Committee and of Dhaka University Senate. Besides, he has floated, chaired and maintained dozen of academic as well as social-cultural organizations at home & abroad. Professor Choudhury was Chairman of Management Studies, Academic Dean, Founder President of the Teachers Club, Member of the Senate & editor of several Journals at Bayero University, Kano. He used to teach at the Ahmedo Bello University of Nigeria on part time basis.
At present he is one of the Advisors of the National Council for Freedom Fighters, President of Bangamata Sheikh Fazilatun Nesa Mujib Parishad & Swadinata Shikkoh Parishad, Honorary Fellow of Bangla Academy and winner of several gold medals for education, administrative and war of liberation. Only recently, he has been adjudicated by a foreign organization as the best manager of the year.
Dr. Choudhury involved himself in establishing several Schools, Colleges, a medical college and a number of private universities including the World University of Bangladesh and National Institute of Business Administration and Information Systems; and AIUMT, Bangladesh Chapter.
On the top of all these, he is a freedom fighter and is the only teacher of University level who fought liberation war after receiving Guerrila training in Dehradun in 1971. Side by side, he edited and or wrote columns in the `Bangladesh'-only weekly from Eastern Zone during the liberation war. He is now one of the Advisors of the National Council for the Freedom Fighters.
Dr. Choudhury has also a published large number of works beyond his professional domain. He writes columns in renowned dailies almost every week and participates in talk shows.